We trained all the other Kansas City James Hardie siding installers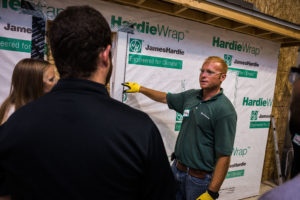 One of the most important factors to your siding project is the quality of the installers.  Not to brag but we are frankly the best and most knowledgeable James Hardie contractors in the Kansas City metro area. 
Canes Exterior Transformations was found by TWO former James Hardie manufacturer reps.   We have over 16 years of combined experience working directly for the manufacturer.  Those 16 years were spent being the LOCAL EXPERT when it comes to James Hardie.  We trained ALL of the Hardie contractors and we were the ones THEY  called when they had a question about the product!
What can you expect from James Hardie siding?
The benefits that you can expect from your new James Hardie siding are numerous but the main one that our clients appreciate is that it is so low maintenance!  Once you have James Hardie on your home, gone are the days of having to paint your siding every 5-7 years! James Hardie Colorplus siding comes with a baked-on proprietary coating that is guaranteed not to chip, crack or peel and is available in the most popular colors and styles!  The company is so confident in their paint finish that it is backed by a 15-year warranty!
How is James Hardie siding made?
Another big reason that James Hardie is the #1 brand of siding in North America, is because of what it is made out of.  Fiber cement is a mix of portland cement, cellulose fiber (fancy word for high-quality wood pulp), sand, and water.  Since it is mostly cement it will not burn, woodpeckers and insects stay away from it and it doesn't rot! It's simply the best product available and the lowest maintenance solution for our clients.
What is the return on investment with James Hardie siding?
You can also expect to get a great return on your investment when you choose James Hardie siding.  According to the 2021 Cost vs Value report put out by Remodeler Magazine, Kansas City residents can expect to get over 71% return on their investment!  That's one of the highest ROIs out of any home improvement project!
James Hardie has the Good Housekeeping Seal of Approval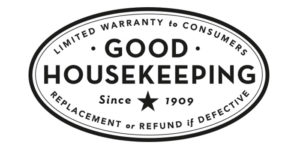 James Hardie spends over $20 million dollars annually on research and development and on product innovation. Since 2013, HardiePlank® lap siding has been backed by the coveted Good Housekeeping Seal from the Good Housekeeping Research Institute.  For over a century, the Good Housekeeping Seal has been a symbol of reliability that consumers trust when making big decisions, like choosing home siding.
The seal is a sought-after mark of quality and is granted only after a product's rigorous evaluation.  The engineers from the Good Housekeeping Research Institute evaluated HardiePlank lap siding for fade, weather, water, fire resistance and more using state-of-the-art equipment.  James Hardie has its own rigorous testing process, but it is always gratifying to get this seal of approval from a third party.
James Hardie has earned the endorsement of other trusted industry experts, such as:
This Old House gave Hardieplank lap siding their "Best Building Product Made in America" endorsement.
Money Magzine singled out Hardieplank lap siding as a "Great Value".
James Hardie made the Professional Builder Top 100 list for providing top building materials and products.
Green Builder Magazine gave James Hardie a Readers' Choice Award for "Most Sustainable Product".
All of this is why Canes Exterior Transformations has always EXCLUSIVELY installed James Hardie siding products. If you want the best products for your home installed by the best and most professional company in Kansas City, you have arrived at your destination!
Download James Hardie Product Catalogs
James Hardie Product Comparison Guide
James Hardie Inspiration Guide