Pro Installer for TimberTech Decking

Build the outdoor space of your dreams with beautiful TimberTech decking! One thing you can say about those of us living in the Kansas City area – we love spending time outside! And there's no better way to do that at home than by enjoying the outdoor life on an expansive, comfortable deck.
That's why Canes Exteriors partners with TimberTech, the country's leading manufacturer of engineered wood decking materials, to offer our neighbors beautifully designed, professionally constructed outdoor decks and porches. Our decks come with a hidden advantage of engineered wood for durability and low maintenance. Get the natural charm of real wood without the high maintenance requirements. Contact us today for a free consultation and quote!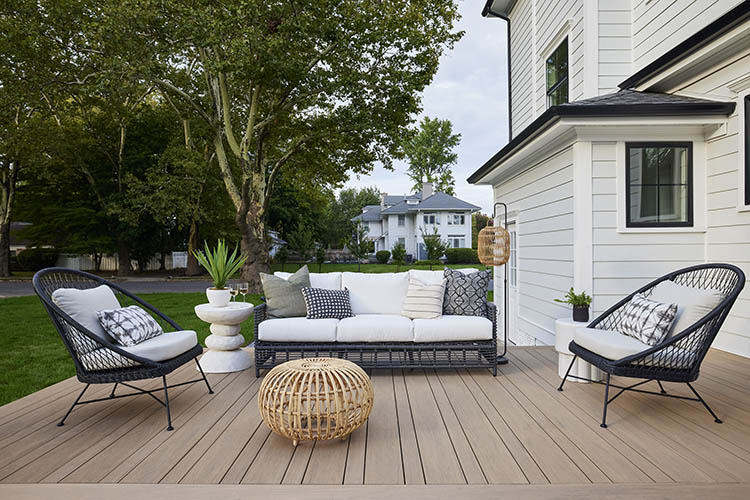 Custom Deck Prices
Basic Treated Wood
$7,500+
If you simply need an affordable deck that does the job with no complexities, this is our most budget-friendly offering. A traditional wood deck is an affordable option to dress up your slab patio or to replace an old rotting deck.
Elevated Composite Wood
$40,000+
This is our most popular deck option, a raised deck with stairs and railings. Unlike standard treated wood that needs staining every year or two, composite wood holds its color better, which is why many clients choose to upgrade to composite.
Multilevel Composite Wood
$100,000+
Talk about a dream outdoor living space! If you envision a deck with multiple levels, contrasting colors, lights, screens, or maybe a fireplace or outdoor kitchen, we have you covered!
About Our TimberTech Decking Products
Our decks will withstand the full spectrum of Kansas City weather, thanks to advanced engineered wood technology that yields the look and feel of natural wood, while delivering the weather-resistance and durability you can only receive with a high-quality polymer or composite material. TimberTech's range of engineered woods won't rot, rust, splinter, crack or fade.
Choose from 100% polymer or composite materials that are "capped" to protect the surface against sun, rain, snow, ice and foot traffic. Each has a natural wood texture and feel, all without the high maintenance demands of wood. All three decking choices are available in narrow, standard and wide widths. Multiple options allow you to fully customize your deck, including railings, lighting and accessories that add the perfect finishing touch.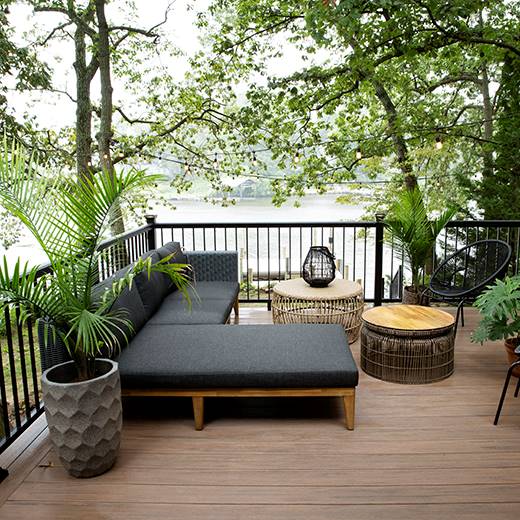 TimberTech AZEK® Decking
Our top-of-the-line capped PVC AZEK® decking features the most powerful technology, along with a natural wood grain look. This premium capped polymer decking is made without wood, delivering unparalleled performance with an unrivaled design. It's all backed by a Limited Lifetime Product Warranty and a 50-Year Limited Fade & Stain Warranty.
Made without any wood particles, making it resistant to moisture damage with advanced surface protection
100% synthetic with maximum protection against mold and mildew
50-Year Limited Fade & Stain Warranty to ensure beauty initially and over time, which is double the length that leading competitors offer
Scratch, dent and stain-resistant, so you can worry less and enjoy your deck more
Stays cool, up to 30 degrees cooler than the competition
TimberTech PRO® Decking
Better style and performance than competitive composites, TimberTech PRO® is enhanced by a powerful mold- and moisture-resistant cap. This is a superior four-sided capped composite decking that offers complete surface protection with an elegant design. It is backed by a 30-Year Limited Product Warranty and a 30-Year Limited Fade & Stain Warranty.
Capping on all four sides offers more protection than leading three-sided cap products
It's the only capped composite decking with Mold Guard Technology
Boards are more mold- and mildew-resistant than competitive boards with four-sided caps
Better warranty of 30 years than leading composite brands' 25-year warranties
Environmentally friendly and made from 73% recycled materials
TimberTech EDGE® Decking
Superior longevity and quality over traditional wood, this premium-level, three-sided capped composite EDGE® decking boasts beautifully sustained, solid colors. It carries a 25-Year Limited Product Warranty and a 25-Year Limited Fade & Stain Warranty.
Made without wood particles in the cap, making it resistant to moisture damage
Tightly embossed wood grain patterns resembling premium decking aesthetics
High-quality composite decking that's very low maintenance compared to the time-consuming maintenance of real wood
Request Your Free, No-Obligation Quote Today
Our TimberTech decking experts can create a unique design for your deck that maximizes available space and that includes all the features you want to meet your outdoor living needs. The result is an outdoor space that lets you live your best life entertaining guests or just relaxing with your family, all without worrying about painting, staining or repairing damaged wood. Call us today at (913) 645-1007 or message us online for a free, no-pressure quote!