It's not every day that you get to work on a project with great views, stampeding horses, and two rambunctious Labradors. But this transformation with James Hardie Siding in Tonganoxie, Kansas checked all of those boxes.
The existing wood-based siding had seen better days and when our clients bought the house they knew they were going to eventually have to update the siding. They chose James Hardie 8.25" Cedarmill lap siding in Night Gray Colorplus on the bulk of the home and used James Hardie Arctic White rough sawn trim to accent the windows, doors and corners. The garage had a big gable on the front and back and it made for a great spot to incorporate some Hardieshingle.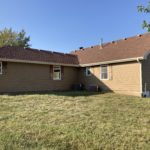 It was important to the homeowner that the color was the same but unfortunately, Night Gray shingle was not stocked anywhere locally and we would have had to wait 8 weeks to get the material. Not great timing when you want to have the project finished before Thanksgiving and it's almost Halloween! In order to make sure the home was ready to show off to family and friends for the holidays we used Primed Hardieshingle and painted them, Night Gray, with Sherwin Williams Duration. We had the color and sheen matched exactly and it turned out great. Sherwin Williams provides a lifetime warranty on their Duration paints so the homeowner had peace of mind that it would last a very long time.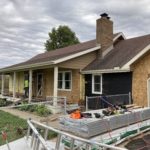 Another change to the garage was to make the corners square instead of an octagon shape that was outdated. Our installers are master craftsmen so this was not a challenge for them at all.
The homeowner had a family connection to an electrician and wanted to add some can lights on the front and back porch. We coordinated with the homeowner and made sure that we could accommodate getting the wiring done while we were replacing the soffit.
We also wanted to make sure the foundation got painted as well as the cedar beams and the garage doors. These are things that not every contractor will think about and you will regret not doing after the project is complete. No one should have to come home to a beautiful, newly-sided home that has dingy paint on the garage or front porch!
Everything came together great on this replacement project with James Hardie Siding in Tonganoxie, Kansas and the finished product is a much more up-to-date exterior, that is also more functional for the homeowners' lifestyle and future home improvement plans!